A 3D rogue-like is the big project I'm going to work toward. For the non-nerds among you, a rogue-like is basically a primitive hack-n-slash dungeon game. But to get there, and release it with minimal issues, I have a lot to learn about publishing, the platform, and marketing/advertising in this age of mobile and social media.
So the plan is to work on the rogue-like in 2-week or 3-week intervals, and then shift to small projects that I can develop and deliver inside of 4-6 weeks. There are several reasons for the smaller programs:
Keep everything fresh – the smaller apps will be welcomed breaks/diversions
Learn how to manage publishing and releases – I want to be well versed in what's necessary for deployment, release-time assets, and publishing. Releasing the smaller apps gives me the experience and helps work out the kinks on more trivial apps instead of the big one I will be depending on
More practice with code and project development – I want to learn to reign in feature creep and get a handle on time/resource requirements for different aspects of development in the smaller projects. This makes it easier to wrangle those things in the big project before they get out of hand.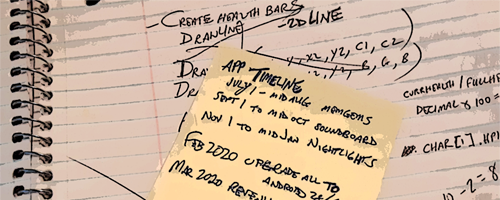 So how are we going to get there?
July 1 to mid-July – design doc and as much as possible that can be hammered out for the rogue-like
mid-July to mid August – The first app will be MemGems, a Simon-like memory game. This will be my lesson in publishing and releases.
mid-August to September 1st – back to the rogue-like
September 1st to mid-October – identify an audience and design a game for them. Currently I am thinking of coming up with a game or app that my 12-yr old son and his friends would like.
mid-October to November 1st – mo' rogue-like
November 1st to mid-January – the goal here is going to be to identify a need and create a utility/app for that need. Then see what the extent of grassroots advertising is for it. App type currently undetermined.
Jan-Feb 2020 – by this point I should have some metrics on the apps. I will also have 3 apps under my belt. Something primitive/crude but playable is the goal for the rogue-like. Part of my time will be shifted to focusing on how to increase revenue from the apps that are already released. A Road Map for the rest of the year will be completed.
March 20th 2020 – the deadline. To reiterate the criteria for success:
publish at least TWO apps on any platform
have a roadmap for the remainder of 2020
and (the important one) have some kind of revenue coming in
Now, let's get this Dream on the road!