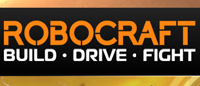 Title: Robocraft
Developer: Free Jam
Website: http://robocraftgame.com/
Steam link: http://store.steampowered.com/app/301520/
"Build. Drive. Fight."
We were initially excited to add this one to the list as we had a tremendous amount of fun playing it last year, but we found the latest version of it just plain disappointing.
If you can get past the "Buy Premium!" starbursts everywhere you look and don't mind a bit of pay-to-win in your game (complete with lockboxes and restricted loot), then Robocraft has a chance to offer some really great bot building fun. The combat is also fun, but up until the point where you start to realize the insane disparity between those spending money and those not spending money.
Players can buy building components or entire bots, and the store offers a wide selection of amazing looking land and air bots for almost every tier. The game however seems to suffer from two things currently:
mobile/facebook-like monetization
some good ideas (ex: epic loot) executed poorly
Luckily both are fixable, and we look forward to seeing where Robocraft heads in the future.
Game modes include:
a Ranked battle arena
seven different Unranked modes
two solo/practice modes.
<<Page 1 COMBAT ARENAS Page 3>>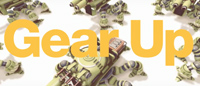 Title: Gear Up
Developer: Doctor Entertainment
Website: http://play-gearup.com/
Steam link: http://steamcommunity.com/app/214420
What Gear Up lacks in Building, it more than makes up for in Strategy. Whereas Robocraft and TerraTech let you custom design things like flying artillery cannons, armored toasters, and spider-like mountainclimbing rocket launchers, Gear Up goes a different direction. Each component serves a specific function such as propulsion (wheels, treads, etc), hull, turret, support, weaponry, flags, and decorations.
The maps are relatively small, preset zones with objective locations and bases, and the gameplay seems more team dependent as opposed to the kind of free-for-all feel the others have. The graphics are nicely done and the game runs smoothly on my rig (i7, 8Gigs, 750 GTX). Gear Up also lets you record gameplay to view later or even playback as amtch where you can play yet another car in the game.
Gear Up offers Deathmatch, Team Deathmatch, and Conquest game modes.
<<Page 1 COMBAT ARENAS Page 3>>