Vainglory is a game designed for casual and serious MOBA players that wants to take their MOBA gaming mobile. Available for both the Apple iOS and Android platforms, Vainglory delivers a high-quality game experience from start to finish.
Getting Started
Making no assumptions about the player's familiarity with MOBAs, the game presents a quick, intuitive tutorial to get them up to speed. Inside of ten minutes, the new player will know how to move, how to use skills, where to get gear, and – most importantly – how the basic mechanics of the game work.  By the end of the tutorial, you will have a set of heroes, some cash stashed, and will have completed a full match vs AI. The game also includes several tutorial videos including two starter videos – "I'm New"  for people new to the genre and "I'm Awesome" which uses common MOBA terms while pointing out the differences and finer points of Vainglory.
Gameplay
Both PVP and Bot (PVE) modes are available, with the Bot mode configurable for Solo or Co-op and a range of five difficulty levels.  Matches are 3v3, which is pretty optimal, as 5v5 on an 8″ or 10″ screen would start to get a bit too chaotic to be fun.  The map places the main lane across the top, with a large jungle sprawling below it. The mini-map is very helpful, being large enough to clearly see position and pings, while not being so big as to obstruct view of the main game.
When it comes to controls in MOBAs, I'm partial to WASD. LOCO, Paragon, SMITE… that style of control works better for me than point-n-click or a controller. However, I found the controls for Vainglory very easy to use which makes me want to revisit League of Legends on a touch screen and see if that changes things for me. The ping system has a collection of social and tactical pings, allowing you to ping a location with a specific image such as a question mark, target reticule, smiley face, or alert symbol. This gives more context to the ping which is important when voice and text chat are not readily available.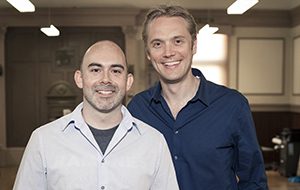 AAA Experience
Vainglory delivers above and beyond in every regard. On my LG GPad, the gameplay was smooth and flawless, and the graphics are what one would expect from a major studio. No corners were cut on the audio either. Beautiful music, epic fanfares, and effective use of audible feedback keep things engaging and fun. Humorous character quips and shouts add to the entertainment. As mentioned above, the game also comes complete with a set of short and very useful tutorial videos, explaining mechanics and emphasizing teamwork/social gameplay.
The Devs are EVERYWHERE
It was amazing to see that no matter what channel I went to for information on the game, the devs had a presence there and responded to community in a timely fashion. A recent issue with a re-release of certain seasonal skins has created a bit of a storm. The devs listened and responded. As someone late to the party, it seemed a very reasonable and fair response to me, so we'll see how it goes. That said, the level of communication and interaction with the playerbase is, by any measure, fantastic.
I'm late to the party, but damn glad I finally showed up.
A year or so ago I had heard of Vainglory, but I couldn't picture a MOBA on a tablet – tiny screen and tap controls – performing all that well or being all that much fun to play. I had passed it over several times since then. When I tasked my son to find some new MOBAs, he came up with this one, so I decided to give a try. Vainglory is impressive in every regard, and worth a try for anyone looking for a fun, challenging multiplayer experience on their Android or iOS tablet.
So watch the trailer, browse some screenshots, and then grab your tablet (if you're not on it already) and check out Vainglory. I think you'll be very glad you did.
Oh, need a link? Here's a bunch of them:

Vainglory Gameplay Trailer